HELLOOOO FROM THE OTHER SIIIIIIIIDEE
Welcome to the very first Outsourced! I launched this newsletter to curate, collect, and boost the best in LGBTQ journalism and discourse. There's a measurable gap in consistent media coverage of LGBTQ issues, queer publications are struggling to stay afloat, and the most talented reporters on the beat tend to freelance or cycle from layoff to layoff. Substack was created in order to help journalists skip the middleman and reach readers directly, and Outsourced thinks that is the perfect conduit for delivering LGBTQ news. Read more about Outsourced and the person behind it (that's me, Mary Emily O'Hara) on the about page.
Here's the elevator pitch: every week Outsourced brings you the top LGBTQ news stories, a little culture, some experts to follow, upcoming events to prep for, and some updates on queer media too. There will always be something light, like a meme or a dumb viral video, to counterbalance the ugh feeling that often comes with being informed in 2020. I want Outsourced to help readers really understand what's going on with current events, but I won't catch every single thing. I am but one nerdy nonbinary at a laptop. But you can help Outsourced grow: subscribe, recommend it online, buy a gift subscription for a bigoted extended family member. And don't forget to send your news, tips, and press releases to outsourcednews@gmail.com.
---
---
THIS WEEK'S TEA 🍵
Over 180 LGBTQ Advocacy Groups Try to Stop Amy Coney Barrett's SCOTUS rise…
Nico Lang, one of today's most prolific and exacting LGBTQ beat reporters, lays it all out for Condé Nast's LGBTQ outlet them.
…It Didn't Work.
No one was able to stop Amy Coney Barrett's confirmation, and she now sits on the Supreme Court despite having never tried a case or having worked one (1) day of pro bono work. Juan Alfonso Nunez wrote about Trump's third SCOTUS placement for the awesome QPOC outlet Chaos + Comrades.
Black Queers Head To The Polls
For NBC BLK, Derrick Clifton looks at where two vital voting blocs intersect, talking to Black LGBTQ voters in Seattle, Toledo, and St. Louis to find out what's driving their electoral decision-making. Top issues cited by the voters were healthcare access, the rise in anti-LGBTQ legislation, and racial justice. Unsurprisingly, the Biden-Harris ticket is the overwhelming choice in both demographics; 89 percent of registered Black voters are for Biden, with 76 percent of LGBTQ voters joining them, according to polls Clifton sourced.
The Big Gay Election
Here's Autostraddle's "big gay voting guide," as coined by deputy editor Carmen Phillips. With over 100 nonbinaries and queer women running for office, everyone's favorite sapphic website has created a beautifully illustrated state-by-state guide to local elections. Here in Oregon, for example, I learned with an absolute lack of surprise that we have three lesbians running for office—two of which are moms and probably all of which have dogs and gluten allergies.
Spooky: We Could All Lose Healthcare Access Next Week 💀
OK, so here's the hard part: with some news, there's just no way to make it sassy and entertaining to read. On November 4th, right after the election, the Supreme Court will argue whether to overturn the Affordable Care Act (AKA Obamacare). That means the roughly 20 million Americans who gained access to health insurance for the first time under the ACA could be screwed—and many of those people are, of course, LGBTQ. Read Katelyn Burns's piece for The Guardian about the impact it could have on transgender people if the Trump-packed court takes their healthcare away.
Tiffany Trump hosts the year's most confusing Pride party 🙃
I'm sitting at my laptop trying to find the right words, but every time I try to watch the video I drift off into a dissociative episode and awaken 20 minutes later. While no one can claim to make sense out of 2020, much less...this, Ryan Beals managed to at least deliver the facts for NBC Out.
The Pope Thinks It's 1998
Pope Francis this week appeared to move the needle on Catholic LGBTQ acceptance by endorsing civil unions. For anyone who still remembers the last century, civil unions were a sort of separate-but-equal approach to letting same-sex couples have a legal partnership in the days before marriage equality. It's an odd choice of words in a world in which same-sex marriage proper is already legal in 30 countries around the world. On the other hand, it's already having a major impact in countries like Venezuela, where President Nicolas Maduro immediately took the pope's message to Congress and urged it to consider marriage equality. Check out Michael Lavers' coverage of the papal utterance for the Washington Blade, and coverage of Maduro by Mayela Armas and Luc Cohen for Openly, the LGBTQ news site from Reuters.
Seasonal Pandemic Disorder Hits Hard 💜
We're all depressed, and winter can only make things worse, not to mention the outcome of next week's presidential election. That's why mental health support is more important than ever before. Jo Yurcaba wrote about 988, the new national suicide hotline, and how it could save lives amid a crisis of underfunded mental health resources. Read on at the mental health news site (that's a thing now) Very Well Mind.
---
GOTTA FOLL👀W
Every week, Outsourced suggests a few awesome queer social media accounts you should follow and why.
Trans Journalists Association: The last couple of years have seen some criticism tossed at the National Association of LGBTQ Journalists (NLGJA) over trans inclusion, and last week's NLGJA convention added to it when an attendee reportedly yelled the word "tr*nny" over and over during a Zoom workshop. That's the kind of thing that led to the formation of the Trans Journalists Association, which you should follow.

Akwaeke Emezi: If you're following the horrific SARS violence in Nigeria, if you love nonbinary writers, and if you want to read more contemporary fiction, you have three great reasons to follow this lauded Nigeria-born enby novelist.

Chase Strangio: There are so many LGBTQ-specific cases either being argued before the Supreme Court or making their way up the chain through lower courts now. With all three of Trump's justices sitting on the court, there's a conservative majority that could transform every legal victory LGBTQ people have won over the last decade. Luckily, we have the ACLU's superstar trans lawyer Chase Strangio to explain it all—and he keeps us updated mostly via Twitter.
---
ALSO IMPORTANT
Remembering Monica
"Fuck." That's pretty much the first word that came out of my mouth when I got a text about the sudden death of Monica Roberts, beloved trans journalist and community leader. Monica was more than just the blogger behind the groundbreaking Trans Griot she launched in 2006; she was a storied figure, a den mother, a trailblazer, and an inspiration to so many people. I first met Monica at one of the several LGBT Media Convening retreats we'd both attend over a period of a few years. I was immediately struck by the rarities of her demeanor: part church lady, part ferociously outspoken activist, combined with the extensive knowledge of a policy wonk and the familiar shrug of a tall woman bending slightly down to speak with shorties. When Monica and I ran into each other at conferences and events, she'd always start with the moniker she'd bestowed that bonded us together: "hey, tall girls!" She always had a way of making me feel like I was part of her inner circle, like we were comrades. I always felt special, somehow, in her presence. I'm going to miss her.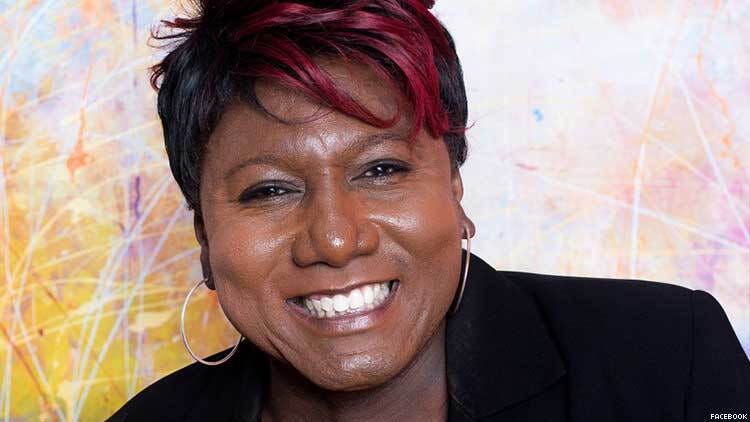 A virtual memorial service for Monica took place on Saturday for those who couldn't make it to her Houston, Texas funeral. The memorial, streamed on the Trans Griot Facebook page, gave friends and colleagues space to not just reflect on Monica's impact—but also to send her off to meet the ancestors in style. It was heartwrenching and necessary, and you should watch it even if you aren't familiar with Monica Roberts. You can also read this Houston Chronicle piece about how the Houston community came together to honor Monica at a beautiful funeral service worthy of her legacy.
Hollywood Loves Consumptive White Mommy-Girl Stuff
We are only allowed to have lesbian love story films if they star pale white women in starched collars who have a 20-year age gap and probably tuberculosis. No one knows why, it's just Hollywood's rule. If you've long fantasized about Kate Winslet banging Saorsie Ronan (…have you?), get ready for the November release of Ammonite. Emma Madden explores this kinda creepy softly-lit yearnfest for The Guardian.
Make Sure Your Ballot Gets Counted
Since being laid off in late September, I haven't had the heart to leap back into freelancing full-throttle. All these media layoffs take a toll, you know? But I am physically incapable of saying no to the wonderful Ella Ceron, who was my editor at MTV News and is now overseeing Lifestyle content for everyone's favorite home design site. Anyway, here's a thing I wrote for Apartment Therapy about triple-checking your absentee ballot so that it reaches its destination.
There Are As Many Intersex People As There Are Gingers
At least, that's what some estimates say. I personally am a ginger and despite years of believing that we are going extinct, I was recently told that's a myth. Who to believe??? Anyway, I just really liked Shana Knizhnik's coming-out essay for Teen Vogue about being intersex—and being encouraged to keep it a secret. And for more on intersex basics, check out these two advocacy groups: InterACT and the Nonbinary and Intersex Recognition Project.
Halloween is a Thing
Is it? Is anyone doing anything? If a person wears a costume at home and there's no one there to see it, are they actually just naked? Halloween is my favorite holiday, and this year I'll probably spend it watching Portland stripper John Kilo change in and out of spunky pole-dancing outfits on Instagram. Which is to say, I'll just be doing what I do every other night.
---
QUEER MEDIA WORLD
¡Hola Papi!
Everyone's favorite Twitter personality and Substacker, JP Brammer, is publishing his first book. As announced this week, Hola Papi: How to Come Out in a Walmart and Other Life Lessons is now available for preorder from Simon & Schuster. For a couple of years, JP and I moved from (same) job to (same) job like some gay version of Lemony Snicket's Baudelaire orphans, and I will protect JP at all costs. Buy his book.
USA Too Gay
David Oliver, formerly the travel social media editor at USA Today, will take on a new role covering diversity and inclusion in entertainment. Outsourced will be watching his Twitter for anything and everything queer.
Send your queer media updates to outsourcednews@gmail.com.
---
MEME OF THE WEEK
---
THANK YOU
Thanks to: my journo colleagues who patiently responded to my questions about Substack, the Substack team that replied quickly to my confused emails, Trish and Kate and Sue for letting me bounce ideas off them, and you for reading and (hopefully) subscribing!
A special thanks is due to J Andreas, who designed the Outsourced logo and banner because I have absolutely zero design skills. 💫 It takes a village💫